Posted on 21. Feb, 2014 by Faye Bond in Blog, Bond Global Enterprises, Branding, Business, Marketing, Website

3 Second is All That You Have: So Make It Memorable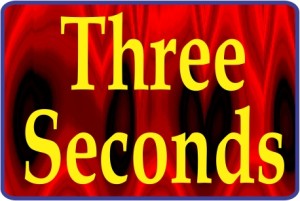 In a previous article I talked about you being the face of your business and how to start branding you. By using your photo on your website your visitors can see you before they start to engage with you.
In the online marketing world, 3 seconds is a long time. This is how much time you have to make a good impression and to get your visitor to stay and look around.
Okay your visitor is looking at your site, what else can you do so that they stay longer?
Ask yourself this question "What's In It For Me? This is the question all visitors to any website ask themselves.
The answer to this question should be the first things visitors see when they visit your website and needs to be above the fold. Above the fold means what the visitor sees before they start scrolling down the page. This is where your compelling core message should be and in about 15 words or less. This message should convey to your visitor that you can help them by solving their problem.
Have an irresistible offer that they can opt-in and download immediately. This offer speaks to the visitor in a way that solves their problem.
These two things answer the question "what's in it for me".
Think of your website not just as an online brochure but more like a coffee shop for your target audience. Connect with them. Make them feel at home. Give them a treat that keeps them coming back for me. Good service, an excellent coffee and yummy cakes will make a customer go back for another coffee and cake, so make your website do the same.
Your home page should be about the visitor, not you. Nobody cares about what you ate for breakfast that day they care about how you can help them and how you can solve their problems. Sure you need to let them know who you are and what you can do but ultimately your website is about them, not you.
Make it about them and what's important to them. When you do that they will feel understood. They then tune in and read on. They want to engage with you, learn from you and share you as a resource with their friends.
What strategies do you use to engage your readers?