Posted on 16. Sep, 2013 by Faye Bond in Blog, Bond Global Enterprises, Branding, Internet Marketing, Online Business

5 Star Customer Experience Is The Key To Your Reputation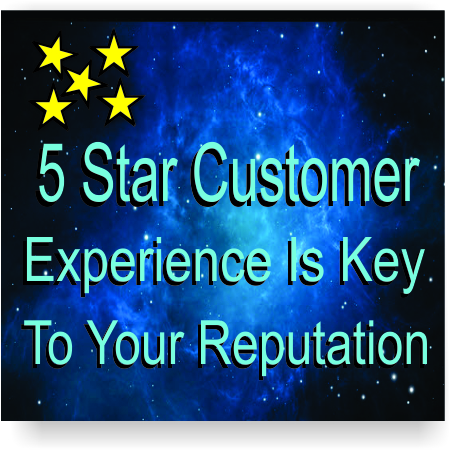 I hit the good old writers block this evening so I've been scrolling though some Google alerts that I've set up so that when I'm stuck for ideas I can go and find inspiration on what to blog about. I came across this statement "Go somewhere you've never been."
Don't think about your business the way you always do. Look at it from the viewpoint of your customers. Look at it from the outside in.
This got me thinking about an experience I had with an interior decorating business that I visited this morning. I went into town with the intention of purchasing curtains for our home that has recently been renovated. After looking at fabrics for a couple of minutes a staff member approached me and started to ask me if I need any help. Before she had time to finish her sentence she started coughing and sneezing and had to excuse herself. She didn't look well at all.
After I selected some curtain samples to take home I went to the counter to have them checked out. While I was waiting for some service I noticed three staff members standing together talking about where they were going to go that night. I approached them and asked for some assistance. I noticed that their appearance was unkempt and very untidy. By now I was feeling frustrated at their lack of service, their complacency and bad attitude.
When one of them finally decided to give assistance I said not to bother as I was going to take my business elsewhere.
They have potentially lost business that could be worth about $5,000. They had also lost more customers as an unhappy customer tells about ten of their friends that they are dissatisfied with that business. Those friends then tell their friends and so on. The reputation of that company can be damaged very quickly as people spread the word through social media that this particular business is not someone you should deal with because of poor service.
This got me thinking about customer service and how vital it is to be upfront, honest and timely in dealing with any potential customer, first-time customer or long-time valued customer. They are to be treasured, looked after and given top priority. After all customers are what keep businesses alive.
Customers use social media to spread the word about good and bad businesses. And they do it quickly. A review on say Facebook can either endorse or hang a business' reputation. Don't make the same mistake with your reputation as the interior decorating company did with me.
How do your customers see you? Are you giving real value? What value do you put on customer relations?