Posted on 07. Jan, 2014 by Faye Bond in Blog, copywriting, Marketing, Traffic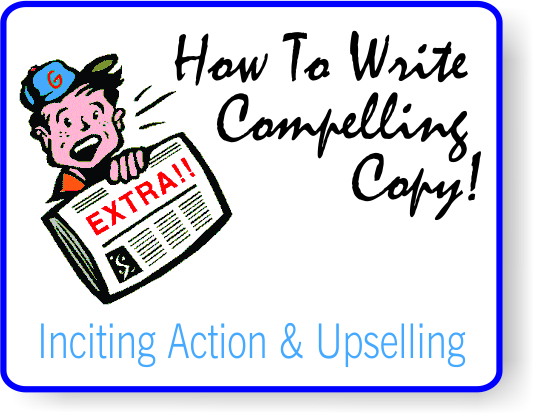 In previous Lessons we discussed keeping it simple, crafting headlines that work, six questions you need to ask yourself, structure of persuasive copy, benefits of the features and guarantees, now in this last lesson we look at the final element to selling and that's inciting action and upselling.
After 'the money's in the list' famous statement the next most used statement in online marketing is 'your back end is the most profitable part of any sale'. You must never base your business on just one product or service. To maximis=ze your income or 'profit funnel' you should have a back end. You can increase your sales by offering another 'must-have' product or service during the course of taking an order.
Take a look at what McDonald's did when they asked their employees to say "Would you like fries with that?" They doubled their worldwide profits. Think about that. Just those six little words doubled their profits.
Amazon does it. They make suggestions to you based on the type of book you are looking at purchasing. They don't make just one suggestion they make many.
Let me ask you a question "At what point in the sale process is your customer most likely to buy from you?" The answer is "When they already have their wallet out'.
The technical term is upselling. You boost the total sale up by offering additional items.
All you have to do is ask.
John Carlton says 'The hottest and most enthusiastic customers you will ever have… are the customers you've just convinced to buy from you.
Okay, so what do you do with them?

When they purchase from you take their name and email address

Offer then another product or service that complements the first product. This could be a high-end ticket item. If he buys this one he goes on to your high-end client list as one of your best customers.


If they don't buy the high-end product offer them a mid-end item. If he buys this one he goes on to your mid-end client list as one of your mid-end customers


Do the same with a low-end product or service.


If he doesn't buy from you after the initial sale you still have their name and email address. Email them with other products and services. These may not be yours but someone else's that you are an affiliate for. A simple rule is to keep the products or services that complement the ones they have already purchased. You wouldn't send an email to someone who has bought dog products previously an email on mountain climbing. Keep it relevant to the customer.
Are you struggling to write your own compelling copy and need help, contact me to see how I can help you.